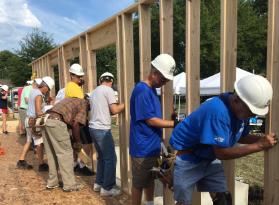 Habitat for Humanity doesn't exist without volunteers! Because of the leadership and generosity of time, skills, and donations of our volunteers, we are able to provide simple, decent, and affordable housing to all God's people in need. As you begin your volunteer adventure with

Habitat for Humanity, be encouraged that as you give to others and serve with others to build a house, you are really building hope in the lives of people.
Popular Volunteer Opportunities
Build Sites - Construction volunteers do everything from framing to painting and everything in between! All skill levels are welcome. All we ask for is a willing heart! Site Hosts are the friendly volunteers that greet and register construction volunteers and take care of various needs at the build site. Food providers are the volunteers that keep everyone going by providing simple, healthy, and delicious meals on work days.
ReStore - ReStore volunteers assist with customer service, merchandising, and receiving donated items. It's a great way to meet all sorts of fantastic people, as we take donated home and building items. We are then able to sell these items to the community at affordable prices. All of this helps us build more homes!
Office - The Habitat Office is the administrative hub of the organization. Volunteers help with reception, filing, mailings, data entry, graphic design, and meeting preparation.
Special Skills/Events - If you have a special skill or interest such as photography, fundraising, international trips, family support, project management, or something else, we would love for you to volunteer your skills with Habitat! Most often this type of volunteering involves the  preparation, execution, or follow up work with a special event, or provide you an opportunity to serve on one of our committees.
Get Started Volunteering!
To begin volunteering with Habitat, we have a simple 2-step process to get you started:
Create a User Account      
This affords you the opportunity to sign up for volunteer opportunities at your leisure.  
Attend a Volunteer Orientation & Training session. 
These sessions provide you with all of the "who's, why's, what's, & how's" of Habitat. You will have an opportunity to hear from other volunteers, homeowners, and staff and discover the full range of opportunities we have to offer. We'll also collect the necessary paperwork we need from you so you can begin volunteering. 
To download and print a copy of our liability waiver for Adults, 18 years & older, Click here.
To download and print a copy of our liability waiver for Minors, Click Here. This waiver is a legal document and must be filled out only by the legal guardian or parent. By filling in with your and the minor's information, you are accepting responsibility for reviewing the information with said minor volunteer and taking responsibility for their actions.
The Habitat staff is here to help!
As you begin volunteering with Habitat, we will do all we can to equip you, empower you, and encourage you to make your experience fulfilling and worthwhile. Our staff is here to serve you. We look forward to your participation with us! Please don't hesitate to contact our Community Outreach Manager with any questions.